CO2 Foam XPS Production Line
Our ECOFEL series XPS line represents the most advanced domestically manufactured XPS production line. With our help, we have helped launch numerous XPS production facilities for international companies.
Our vast experience and cooperation with international companies ensures you a world-class XPS factory and greater competitive advantage, while promising service and quality. Don't hesitate to contact us today and consult with one of our experts.
Why Choose USEON XPS Lines
ECOFEL propels the technology of extruded polystyrene CO2 foam production that holds tremendous future potential. We are eager and committed to implementing you a greener XPS production with sustainable advantages. We do not only deliver high-performance and reliable machines, but we also focus on sharing our expertise on producing excellent quality foam boards.
Through close cooperation with our customers, we design our machines for optimum processing performance and engineering capability, facilitating work for the manufacturing team.
From 20mm to 150mm in thickness, from 600mm to 1200mm in width, from 200kg/hr. to 3000kg/hr. throughput, USEON provides an extensive range of production lines, allowing you to match your requirements to the exact machine performance.
USEON ECOFEL Series Key Features
ECOFEL Series Machine Models
| Model | Throughput (kg/h) | Transformer Required |
| --- | --- | --- |
| TDS75-TDD150 | 200~450 | 300 KVA |
| TDS75-TDD200 | 400~700 | 400 KVA |
| TDS95-TDD250 | 600~1000 | 500 KVA |
| TDS110-TDD300 | 800~1200 | 600 KVA |
| TDS135-TDD400 | 1500~2000 | 800 KVA |
| TDS135-TDD500 | 2000~3000 | 1200 KVA |
The layout of different models is almost the same. We will also make some minor adjustments to the layout according to your plant situation.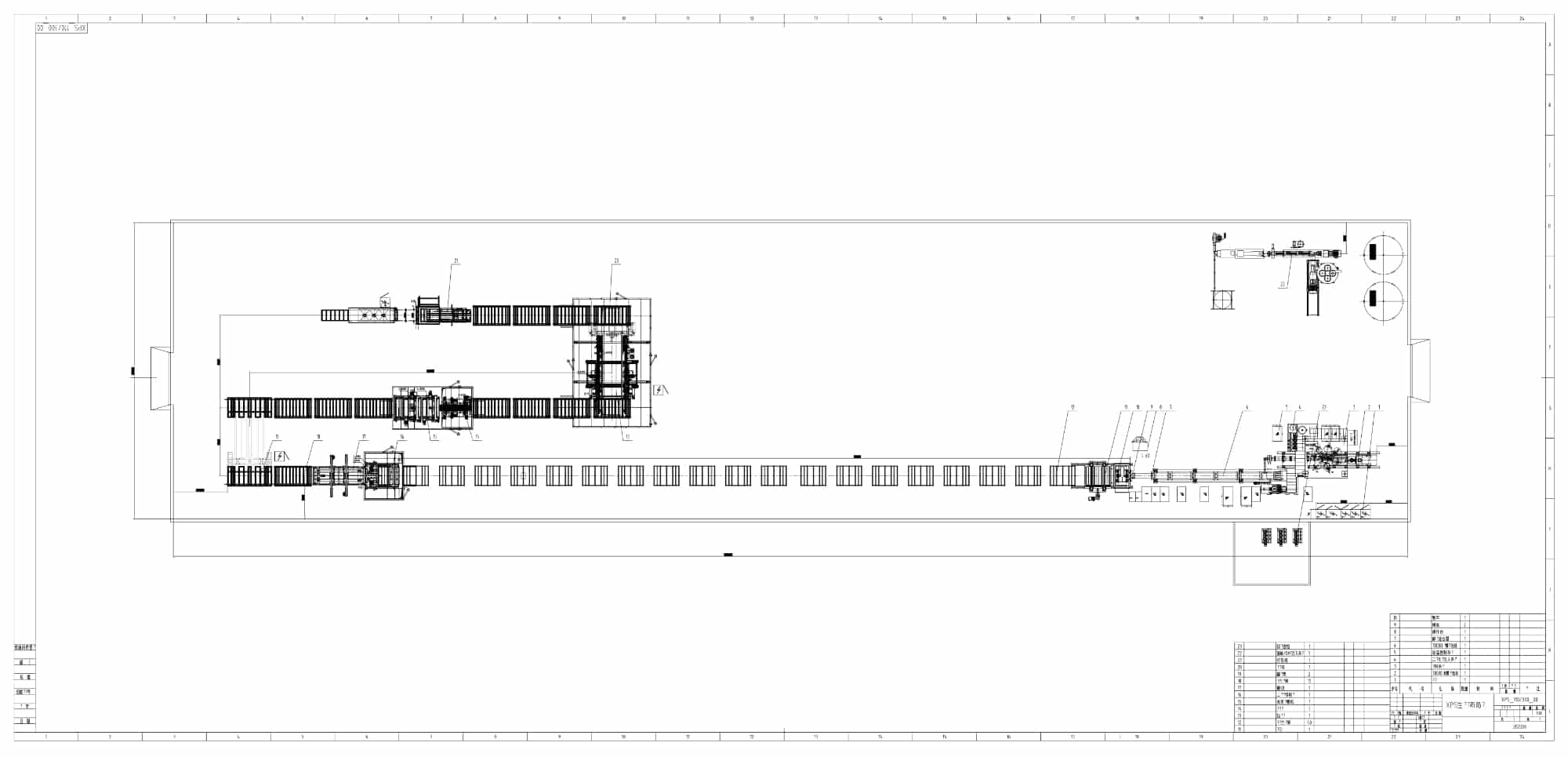 Excellent Quality and Reliability
The quality and reliability of ECOFELTM is recognized by Fortune 500 groups, and leading worldwide XPS manufacturers. This includes UNIDO (United Nations Industrial Development Organization), Owens Corning.
As a strategic partner of UNIDO and their quest to phase-out the usage of HCFCs in XPS production, USEON is providing global support for multiple projects.
Fully Automatic Raw Material Handling System
Continuous and uniform feeding is a key step in producing excellent products. All recipe changes can be done using digital settings. Incorporated with our DCS intelligent control system, it manages production parameters and controls cost more effectively.
Our integrated vacuum loading system and raw material handling solutions can be customized according to individual factory circumstances. This ensures excellent housekeeping and a clean environment throughout the facility.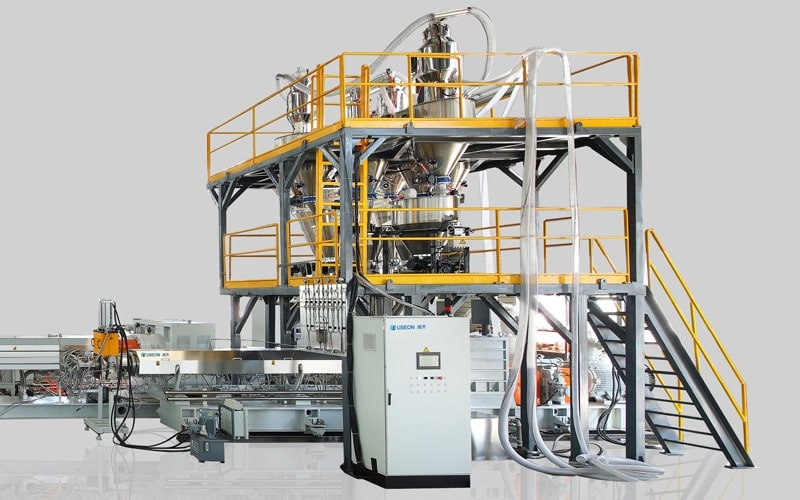 TDS-D High Torque Twin Screw Extruder
In comparison to typical domestically produced compounding twin screw extruders, our extruders are very different, as we adopt TDS-D series high torque, which brings the specific torque of our extruders up to 10.3 Nm/cm3.
Our high torque twin screw extruders offer many advantages as follows:
Maintain the lowest possible melt temperature during processing
Minimize the usage of flame retardant additive whilst maintaining the same flame retardancy level
Keep the colour of the product bright and fresh
Excellent for producing high compressive strength boards
Highly modularized barrels and screws as well as blowing agent injection flange allow TDS-D twin screw extruders to have wider flexibility and suitability. All CNC manufactured barrels and screws assure the precise fit, providing excellent mixing and dispersion as well as optimum residence time distribution (RTD). This all saves additive usage, in addition to enhancing product quality.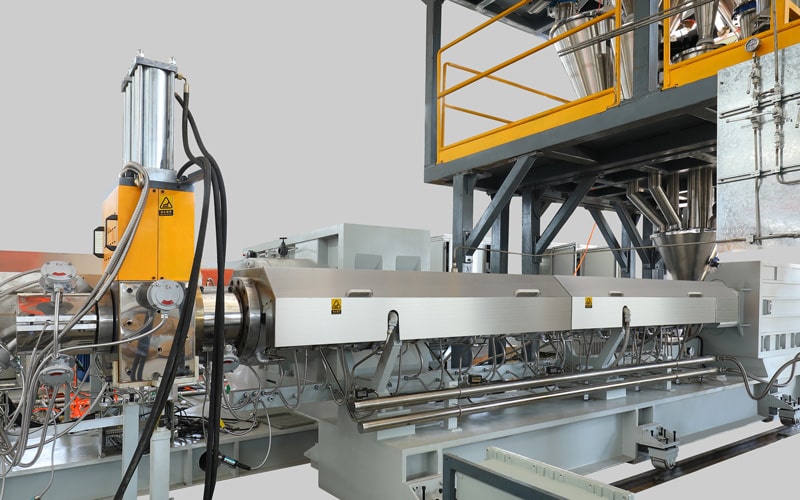 Innovative Cooling Single Screw Extruder
Temperature control is extremely important when extruding foam. The innovative barrel design of our latest single screw extruder has increased cooling capacity by 80% compared with traditional designs.
In addition to our super cooled barrel design, our latest screw profile increases renewal rate of molten materials, ensuring the cooling efficiency and homogenization of the polymer, yet decreasing the power consumption by 30%.
Strike the Balance Between Cost and Quality.
Variable physical properties of CO2 make accurate metering a challenge. It involves temperature and pressure control, mass flow rate control, and a fine balance between processing parameters.
We have designed a CO2 system which controls all the key parameters, to ensure precise metering. Our multiple blowing agent injection system allows you to shift the product portfolio easily, quickly adjusting to suit different market conditions. This also assures constant quality and cost control, therefore maximizing your profit margins.
We provide complete downstream systems, including calibrator, haul-off, edge trimming, cut-off, stacker, and auto-packaging system. We customize the downstream system according to customer requirements, also adapting to existing building. Surface planner, surface groover, embossing, shiplap edge, and tongue & groove edge accessories can be online or offline to suit the product being produced.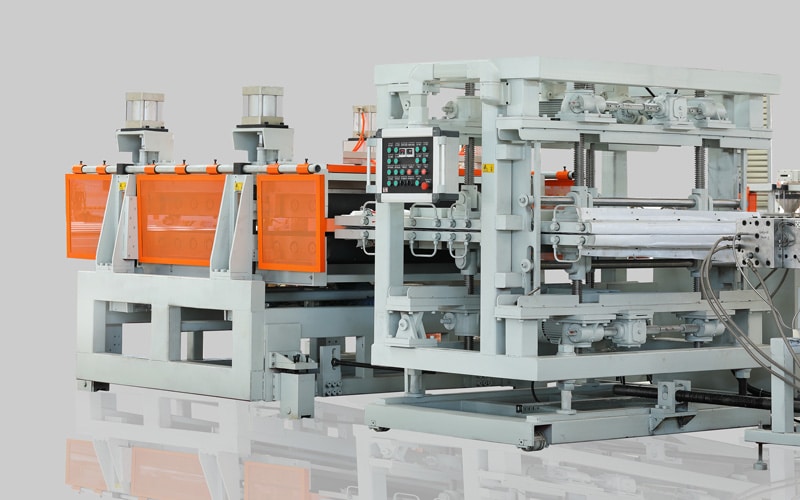 DCS Intelligent Control System
A Prelude to Industry 4.0. Pulling data from recipe management and operation history, then optimizing the parameters using big data. Extracting data from maintenance records and alarm history, remote analysis and technical support can easily be done through such notifications.
DCS intelligent control system helps you manage your production and maintain your equipment more effectively. Powerful industry PC leads your XPS production into the Big Data Era.
To operate successful XPS projects, selecting high-quality equipment is the first step; however, at USEON, we offer so much more. Our professional team do not only provide the best equipment, but also extensive services. These cover workshop design consulting, warehouse logistic management, recipe management operation, and maintenance training.
We achieve this with the help of our diverse expert team and services and supply well-rounded, precise, and comprehensive solutions.
XPS Foam Board Applications
Our ECOFELTM Series XPS production line produces high quality XPS Foam Board for many applications.
Insulation
– Energy-saving for building
– Pipe insulation
– High-speed railway track
High Compressive Strength
– Foundations of airport runways, Roadways
– Under slab, concrete floors
– Safety barriers
Other Potential Applications
– Aeroponics system
– Ceiling decoration
– Composited panels
Guides for XPS Production

For end customers, knowing this information would not get you anywhere. You still need reliable design to warranty the productivity of your production line.
Read More »
How much is the biggest throughput of your machine?
Our TDS135-TDD500 can yield 3,000kg/hr.
What blowing agents can be used?
ECOFEL series XPS foam board machine can work with CO2, ethanol, DME, HFC, HFO, butane, pentane and LPG etc. Usually the portfolio of different blow agents is recommended to reach the balance of product cost, easy operation and thermal conductivity.
What is the lowest density and highest density your machine can make?
We can guarantee the lowest density of 25kg/m3, and highest density of 50kg/m3. However, we have clients can make it lower than 25kg/m3 and higher than 50kg/m3.
What is the highest compressive strength your machine can make?
Our XPS machine is able to produce the compressive strength more than 1,000KPA.
What's the thickness range of the XPS boards?
Our full series of lines can produce from 10-200mm thickness directly. However, each model has its own suitable range, therefore thickness range of targeting market is the key determining factor when selecting machine.
What is the XPS foam boards width range?
The international standard width is 600mm, some countries have 1200mm and 900mm width. In principle, any width can be produced by changing die or adding slitting machine.
What is the thermal conductivity of XPS board?
The thermal conductivity (lambda value) falls between 0.024-0.038 W/(m·K), depends on the recipe of solid raw materials, portfolio of blowing agents, as well as thickness of the boards.
Does this line have to work 24 hours?
Yes, this line has to work 24 hours. Because every start-up will take a couple of hours to heat up and waste at least one hour of scrap.
How much space does it require for XPS project?
It varies from model to model. Generally, 70m x 8m x 8m is the minimum requirement for production line only. Minimum 2,000sqm is required for the whole plant.
Do you make lab-scale machine for foam extrusion?
Yes, we do. We provide 10-100kg/hr lab line for foam extrusion. The final product can be sheet, board or beads.
Which countries are your equipment sold to?
Our XPS foam line has been sold to many countries around the world and has helped our customers successfully put into production more than 260 production lines.
These countries are mainly as follows:
Australia
Belarus
Brazil
China
Egypt
Hungary
India
Iran
Kosovo
Kuwait
Oman
Pakistan
Poland
Romania
Russia
Saudi Arabia
South Korea
The United Arab Emirates
Turkey
Ukraine
United Kingdom
Uzbekistan
Vietnam