Underwater Pelletizing System
Underwater pelletizing system is good for most of polymers. Especially for TPU and TPV or similar elastomer, its advantage plays well.
USEON can provide complete compounds production lines with underwater pelletizing system, such as TPU/TPV production line.
We have launched more than 100 compounding lines with underwater pelletizing system.
Comparing with other pelletizer, underwater is more compacted which is obvious when the output is huge. The size of final pellets also can be better controlled. This system consists of melt pump, filter, Diverter valve, die head, underwater pelletizer, water circulating system, and dewater system.
There are 3 special application which can be handled only by underwater pelletizing system:
① Round shape micro pellets with the diameter ≤ 1mm.
Due to their small particle size, micro pellets spread much more uniform and distribute finer as the conventional raw polymer. In contrast, conventional master batches with "normal" sized pellets must be used in higher dosages to achieve the desired effect.
Therefore, using micro pellets, less colorants are required, which lead to significant cost savings as master batches are extremely expensive compared to crude polymers. Master batches in shape of micro pellets are easier to handle, better to dose and dust free.
Round shape micro pellets can be made only by underwater pelletizing system.
It is difficult to handle the output more than 1000kg/h by the other type of pelletizing system. Under water pelletizing system can handle the output up to 50ton/h.
③ Soft material with the hardness less than shore A 40
Many type of soft material, such as TPE/TPV/EVA/Hot Melt Adhesives, can be made only by underwater pelletizing system.
Specification of Underwater Pelletizing System
| Model | Diverter | Hole No. | Knife No. | Knife moving | Water system | Output |
| --- | --- | --- | --- | --- | --- | --- |
| UP300 | D30 | 8~10 | 4~6 | Manually | W300 | 50~300kg/h |
| UP500 | D40 | 20~30 | 6~8 | Manually | W500 | 200~700kg/h |
| UP1000 | D50 | 30~60 | 8~10 | Hydraulic | W1000 | 800~1500kg/h |
| UP2000 | D60 | 100~160 | 10~16 | Hydraulic | W2000 | 2~6ton/h |
| UPD250 | D70 | 200~280 | 6~8 | Hydraulic | PCW250 | 4~10ton/h |
| UPD300 | D120 | 400~500 | 6~8 | Hydraulic | PCW300 | 10~15ton/h |
| UPD400 | D240 | 800~1200 | 6~8 | Hydraulic | PCW300 | 20~25ton/h |
3D Assembly Drawing of Underwater Pelletizer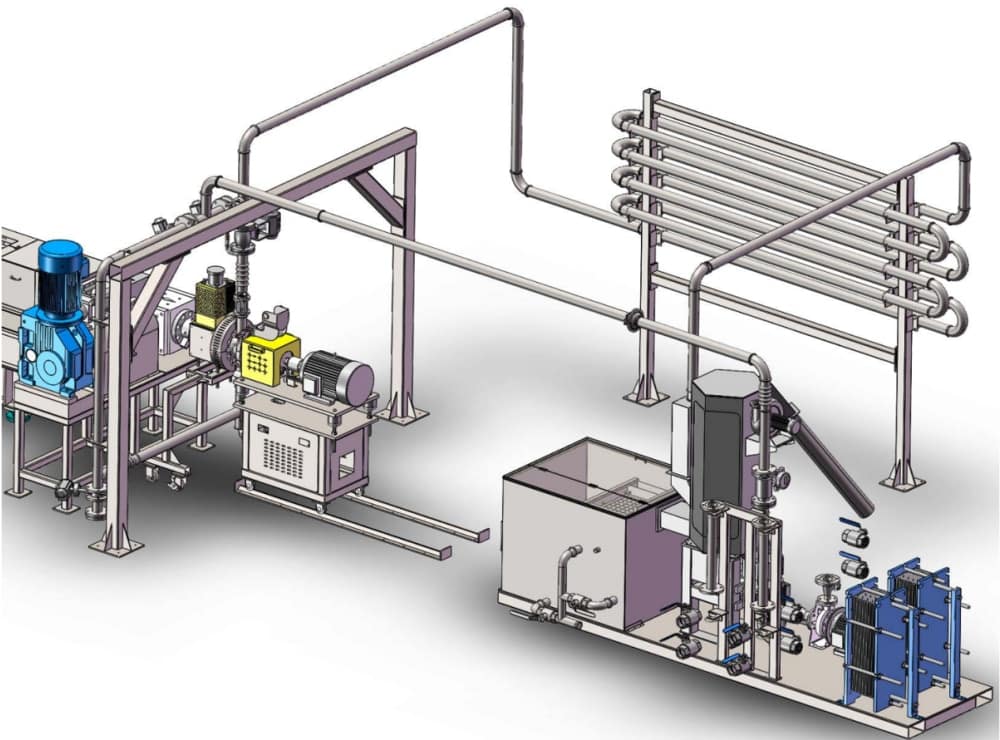 Discharge position
Working positino
Hydraulic driving
Die plate heating: eletrcial heater or Oil
Two type of knife: bevel and vertical. It is designed for different material.
Two type of pressure setting for knife: Manually and Hydraulic.
Online polish for knife
One button start/stop
Knife length indication
With hydraulic station, the knife pressure can be setting on the touching screen, and the system will regrind knife automatically according to the setting time and pressure.
Dewater and Water Circulation System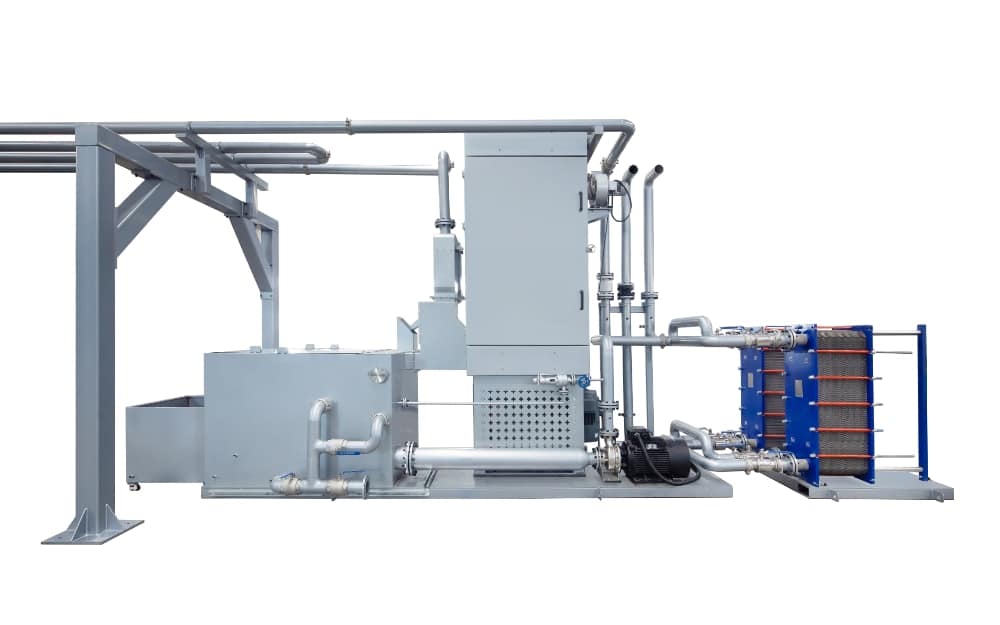 The water tank with heater and water level and temperature control.
The filter with rotating belt and servo motor which will automatically discharge the powder from the dewater system.
The dewater system with extra fan for removing the moisture.
The cooling pipe with water flow control and indicate on the touching screen.
The heat exchanger is easily for cleaning.
One pneumatic valve to control the outside cooling water flow, which will be interlock with the water temperature in the tank.