Green energy is the most talked-about topic at present. Undoubtedly, solar energy becomes an outstanding one of the. Global solar energy products has developed by over than 45% annually in the past decade. The development and investment of solar energy of China exceeded the world average.
USEON has provided several complete production lines of POE / EVA solar cell encapsulation film for well-known domestic solar cell manufacturers.
We have excellent experience, if you want to invest in this industry, please contact us.
Trusted by Leading Companies
In 2022, we will deliver dozens of POE film production lines. If you want to invest in the solar cell encapsulation film industry, choosing our equipment is an option to maximize the return on investment.
Technical Datasheet of Production Line
| | | |
| --- | --- | --- |
| Line type | 600MW EVA/POE Solar Cell Encapsulatoin Line | 300MW EVA/POE Solar Cell Encapsulatoin Line |
| Raw material | EVA Content: 25-33% / POE | EVA Content: 25-33% / POE |
| Output | 400~500 kg/hr | 300~350 kg/hr |
| Film in area | 6,000,000 m2/year | 4,320,000 m2/year |
| Encapsulating Capacity | 500MW/year | 300MW/year |
| Line Speed | 5~12 m/min | 5~12 m/min |
| Film Thickness | 0.3-0.9mm | 0.3-0.9mm |
| Film Width | 2500mm | 1250mm / 2500mm |
| Film Roller Dia | 300-400mm | 300-400mm |
Solar Cell Encapsulation Structure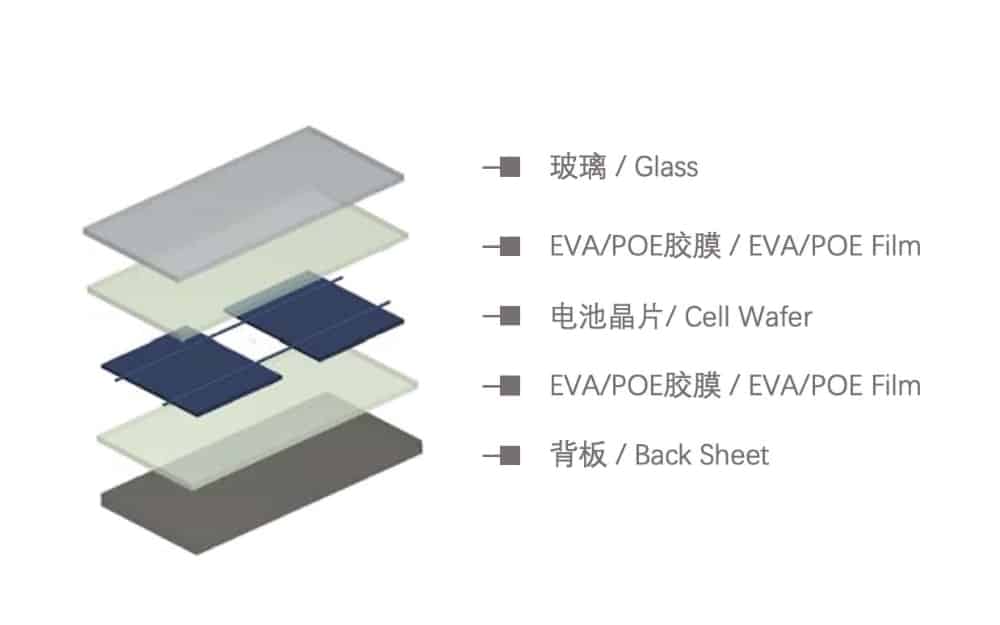 Full-automatic Contiuously Gravimetric Feeding System
Not only is this system able to keep accurate feeding continuously, but it is flexible while the recipe would be changed as per the market demand or technical upgrade.
Intelligent and precise feeding system is a good beginning of a high quality product.
Twin Screw Extrusion System
Twin screw extruder direct extrusion technology is one the most important characteristics of this line. The successful employment of twin screw extruder makes POE / EVA resin and a number of additives in-line compounding a reality.
This meaningful improvement is a result of our profound understanding of twin screw extruder and wealthy practices. This innovation is more than technical advantages, but reducing operating costs substantially.
The excellent mixing effect of twin screw extruder is playing a leading role in POE / EVA film production, because it involves a great number of additives, and it requires good compounding.
Unique screw elements and screw profile are designed according to the physical and chemical nature of POE / EVA resin. It keeps each ingredient mixing homogeneously while avoiding pre-crosslinking. It is a basis of high productivity as well.
Special Cooling Calender Design
Special cooling channel of calenders keeps the temperature of calendar surface uniform. Peculiar silicon coated calendar can remove the stress of POE / EVA film effectively so that lower
the shrinkage rate significantly.
German-made gear pump ensures melt entering into -die with constant quantity and stable pressure. The close-loop can keep the system stable running intelligently.
Peculiar EVA-use / POE-use T-die designed as per extrusion rheology of solar cell grade POE / EVA resin makes sure the stable extrusion at low temperature.
This is one of the givens which guarantee the lower shrinkage and high light transmittance.
Full automatic in-line thickness tester log and report the thickness in time. The full automatic constant tension winding system is designed refer to the mechanical nature of EVA film. Less margin waste, Higher rate of finished products stem from continuous optimizing of each unit during long-term practice of production. These optimizations help reducing operating cost substantially.
Intelligent Control System
From relay to industry computer, we have more options available. The logic setting between each functional modules makes precise control simple. Safer production is a result of considered mechanical and electrical protection. The precise sync and synergetic control of each unit guaranteed the high quality final product at ease.
Excellent Quality of POE / EVA Film
The pursuit of each detail leads to a world class POE / EVA solar cell encapsulation film.
We can guarantee the shrinkage less than 3%, and the line speed reach at 5~12m/min.
For some customers, a high-quality machine is not enough. The high quality of POE / EVA film is a combination of production processing and stable line.
We not only deliver machines, but transfer value. From technical consulting of project proposal to production quality control, from processing to staff training, We provide you total engineering solution and a turn-key project so that you will be more confident when execute your project.