USEON has delivered more than 700 sets of high performance extruder machines for color masterbatch. We would like to share the experience for the following special applications.
Color masterbatch compounding is one of the main applications for twin screw extruder. Color masterbatch is used for any polymer and all kinds of products.
There are three types of Color Masterbatch:
1) Mono color masterbatch or SPC (single pigment concentrate): polymer compounding with one single pigment and mostly without the wax and additive
2) Tailor-Made masterbatch or Custom coloring: mixing different Mono color masterbatch pellets to get the color the customer wants
3) Customized masterbatch: mix polymer and several pigment and additives

Base Resin
Pigments
Additives
PE/PP/PS/PVC
Organic pigments 15-40%
PE wax
PET/PA/PBT
Inorganic pigments incl.:
TiO2 35-70%
Carbon black 35-55%
Effect Pigment 15-40%

White Oil
TPE/TPR/EVA
Anti oxidant
PLA/PBS/PBAT
ZnSt
Fiber ( Carpet, Textiles, Upholstery, etc . )
Film ( Shopping bags, casting film, multiple layer film, etc . )
Blow Molding ( Medical & Cosmetic container, Lubricant & Paint container, etc . )
Extrusion Molding ( Sheet, Pipe, Wire & Cable, etc . )
Injection Molding ( Automotive, Electronic, Construction, House wares, Furniture, Toys, etc . )
Experience for Special Applications
1) PP Base Mono and Tailor-Made Masterbatch for BCF&CF
There are more than 20,000 color for PP base carpet, BCF&CF yarn. So it is better to make Mono Color Masterbatch first, then produce Tailor-Made Masterbatch for the final product.
For Mono Color Masterbatch:
One extruder for one type of color (such as from light red to dark red).
Most of pigments need premix process for better dispersion. Need separate room and dust collecting system for mixer. And PP in powder form is necessary for one time compounding. You just need PP in pellet form, if you do twice compounding process and the first time compounding with split feeding system.
It is better to use the triple screw extruder for the better dispersion and more output, due to 40% extra free volume and one more screw for mixing.
Technical Specifications of Triple Screw Extruder:
Model
Diameter
(mm)
Max. Speed
(rpm)
Motor
(kW)
L/D
Output
(kg/hr)
SAT-T52
51.4
600
110
44-48
250-350
SAT-T65
62.4
600
160
44-48
450-600
For Tailor-Made Masterbatch:
It is clean production with high degree of automation.
Just need high torque and high screw speed for more output.
Fast cleaning type strand die plat for change of color, without heater, just need 2 minutes to change the die plate for different color.
Two Types of Process:
1) Mixer + Twin Screw Extruder + Water Cooling Strand Pelletizing
2) Loss-in-weight Feeding + Twin Screw Extruder + Water Cooling Strand Pelletizing
Technical Specifications of Extruder:
Model
Diameter
(mm)
Max. Speed
(rpm)
Motor
(kW)
L/D
Output
(kg/hr)
SAT40
41
800
55
40
150-200
SAT52
51.4
800
110
40
250-350
SAT65
62.4
800
160
40
450-600
2) PBT Base Color Masterbatch for POY&FDY
PBT has less viscosity than PP, so it need special screw design
PBT in powder form is necessary for premixing process, and need separate room and dust collecting system for mixer
Strong vacuum system for removing moisture and minimum IV drop
It is better to use the Triple Screw Extruder for the better dispersion and more output
The clearance between twin screws & the clearance between screw and barrel should be minimum. So small extruder is better
3) PET Base Color Masterbatch for PSF
PSF is always made from recycle PET
The dispersion inquiry is less than the Color Masterbatch for POY
The most popular formula: bottle flakes (with the size less than 10mm) compounding with 25-40% carbon black powder by split feeding and water cooling strand pelletizing
Split feeding by two loss-in-weight feeder, with minimum dust pollution
Prefer to use Under Water Strand Pelleting System for more output: the strands go into the pelletizer automatically by the water flow, even the strands break during changing the filter. So there will be almost no waste during the manufacturing process.

4) Special-Effect Masterbatch
Effect pigments are used in the decorative area of plastics as well as in the functional area and have become an essential part of modern product designs. Social developments and associated colour trends are constantly being researched. Selected colours are refined by special effect pigments and make the end product unique and worthy.
The main type of Special Effect Masterbatch:


Pearlescent effect
Metallic effect
Fluorescent effect
Marble/Granite effect
Phosphorescent (Glow in Dark)
Fragrance

The Effect pigments have a layer structure and with particle size up to 170 micron. It is sensitive to shearing, so the best process is thus split-feed — feeding into the fifth barrel of extruder by side force feeder
Need special kneading elements with more effect of distribution than dispersion
Need less shearing force but more mixing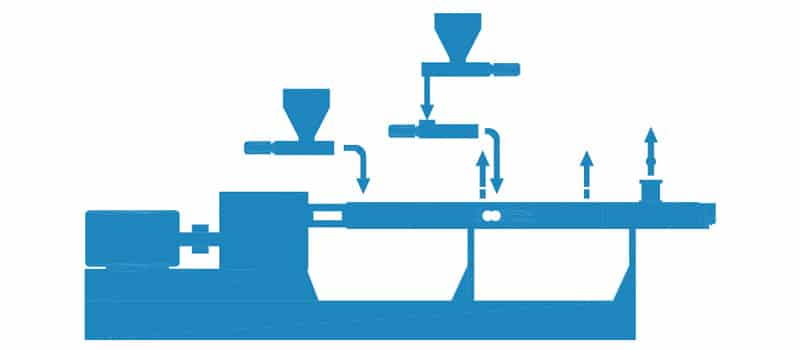 5) Micro Pellets Color Masterbatch
Micro pellets are pellets with a size of ≤ 1mm, which are made by using underwater pelletizing system.
Advantages
Due to their small particle size micro pellets spread much more uniform and distribute finer, like the conventional raw polymer. In contrast, conventional master batches with "normal" sized pellets must be used in higher dosages to achieve the desired effect. Therefore, by using micro pellets, less colorants are required which lead to significant cost savings as master batches are extremely expensive compared to crude polymers. Master batches in shape of micro pellets are easier to handle, better to dose, and dust free.

Filter Pressure Value (FPV) Tester
USEON also provide FPV tester for masterbatch dispersion test.
It is necessary testing machine for the customer who is professional for BCF or POY color masterbatch for fiber application.
1) Equipped with manual plate nitride treated screen changer of high hardness and wear resistance.
2) High precise melt pressure sensor provides an accurate melt pressure.
3) HMI for recording and accounting the result (bar/g) directly.
1) Each time testing need premix the color masterbatch with virgin polymer.
The total weight is 1kg which contains 950g polymer and 50g pigment.
2) Install with 10micron filter (about 1250mesh).
3) If the melt pressure increases from 30 to 70Bar after extrusion of 1 kg material, FPV will be (70-30)/50g=0.8bar/g.