U Series Twin Screw Extruder
U series twin screw extruder is the highest-level series of USEON, mainly specialized for products with high speed and high torque, such as engineering plastics, masterbatch and other applications; specially designed for small and medium-sized blending modification production and application, easier to install and debugging, achieving high productivity.


U series twin screw extruder models ranging from LAB models to capacity of about 2t/h, basically cover entire range of small and medium-scale compounding applications, providing users maximum flexibility in different specifications and models, and scale-up.
Design of 15 Nm/cm3 and 1000R levels 30% higher than previous generation, with increased output by more than 50%, ensuring product quality and economic returns.
New processing section design and large number of materials configuration scheme provide with high temperature control accuracy and longer service life.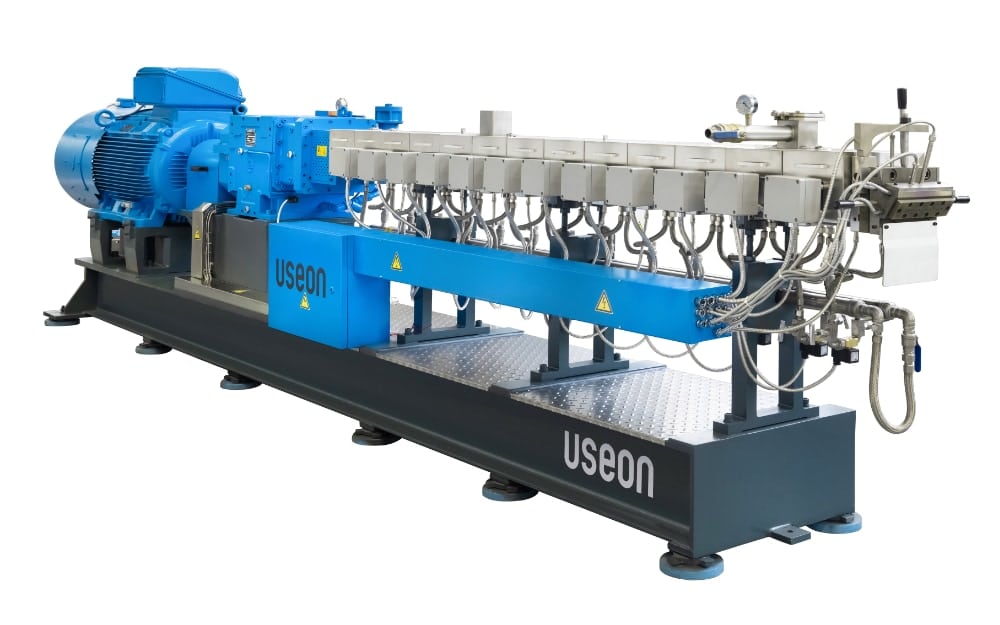 U Type
Screw diameter
(mm)
Max. torque per shaft
(Nm)
Specific torque Md/a³
(Nm/cm³)
Max. screw speed
(min⁻¹)
Max. motor power
(kW)
U2 Lab
27
145
13.6
1200
37
U3
36
405
15
1000
90
U5
51
1190
15
1000
250
U6
63
2100
15
1000
450
U7
71
3240
15
1000
680
U9
93
7110
15
900
1350
High torque: torque of 15 Nm/cm3, meeting higher filling rate and production capacity, greatly improving productivity with reduced specific energy input;
High speed: maximum screw speed up to 1000r, configured screw speed and motor based on process. Screw speed of some models available up to 1200r;
High efficiency: increased temperature control accuracy and efficiency of the processing section by optimized heating and cooling system. Each barrel is distributed with 4-6 radial U-shaped (U-Cooling) cooling channels along the axial length, replacing the previous industry-wide axial reciprocating cooling channels, improving cooling efficiency and reducing radial deformation. Temperature control accuracy and efficiency greatly improved by built-in heating rods of high power density and cooling channels;
Fully integration: control system with newly designed user interface integrates  centralized control, recipe management and remote debugging, with different language options such as English, Russian and Spanish for clients' convenient and efficient operation. Remote control and debugging, convenient data acquisition and exchange able to form a factory-level centralized control system.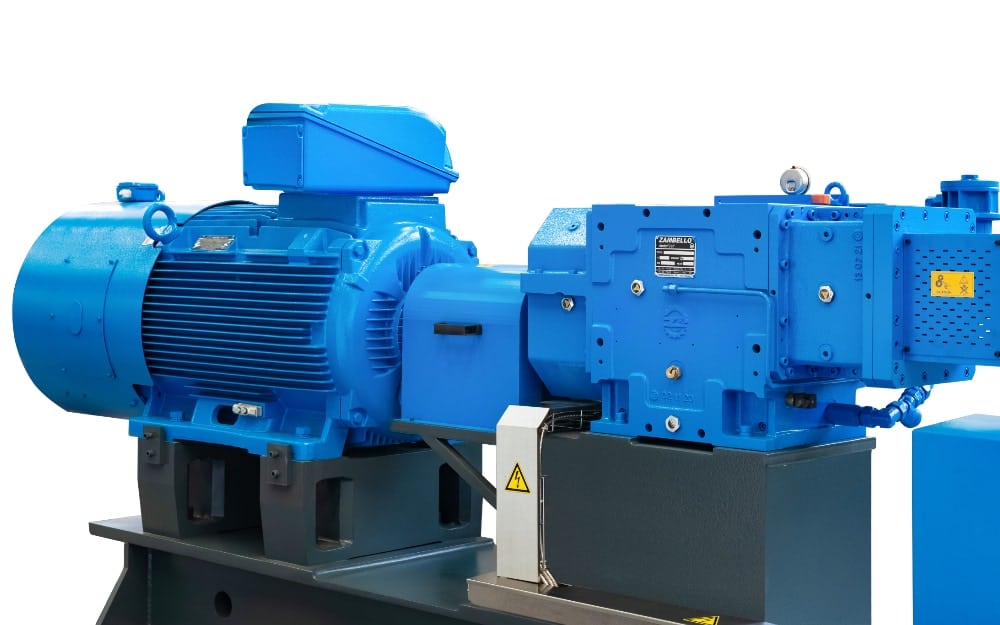 Optional USEON self-produced gearbox or German HENSCHEL gearbox, with compact structure, stable transmission, low noise and excellent cost performance;
Water-cooled motor optional, with higher energy efficiency, more adaptable to hot-temperature working conditions in Southeast Asia and West Asia;
Safety coupling (torque limiter) optional to Mayr, Bibby etc., to effectively protect gearbox and processing section in case of overload or abnormal operation.
Barrel installed with imported heating rod of higher power density, faster heating speed, more energy saving and longer service life;
Barrel with one-piece wear-resistant liner made of nickel-based alloys, improved wear resistance by 50%; corrosion-resistant and wear-resistant liner with high chromium optional;
Screw elements adopt hot isostatic pressing (HIP) material, default is wear-resistant iron-based high vanadium (V) , and corrosion-resistant and wear-resistant type with high chromium composition optional;
Shafts adopt imported high-strength alloy steel with yield strength 55% higher than standard material.
Temperature Control System
Cooling branch adopts stainless steel hose, reducing leakage risk caused by thermal expansion of barrel, and easier to install and replace;
Control elements such as coaxial solenoid valve and check valve with higher temperature control accuracy and feedback time optional.
Newly designed profile welding base provides very high torsion resistance coefficient and obtains higher equipment safety and stability;
Bases of some models available to adopt stainless steel panels and other rust-proof parts to meet the hygienic standard of industries such as food and medicine;