Engineering Plastic Compounding mainly involves the twin screw extruder which can be applied in numerous situations.
USEON SAT-X serial Extruder with high torque gearbox is specially designed for this application.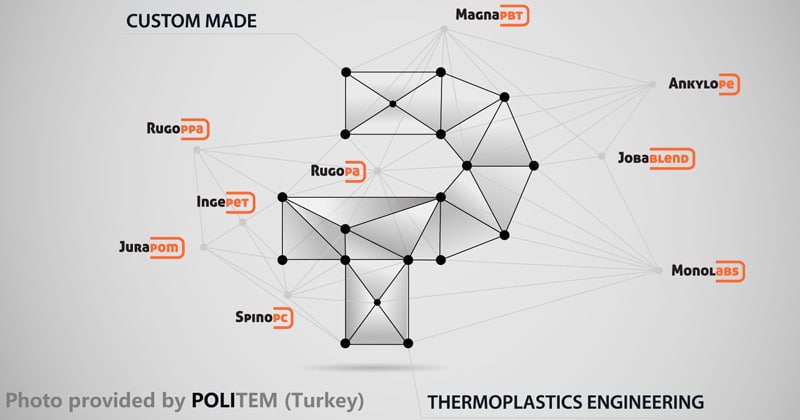 | General Engineering Plastic | Advanced Engineering Plastic | Additives |
| --- | --- | --- |
| PA6, PA66, PA46, PPA | PBI | Glass fiber |
| ABS | PAI | Carbon fiber |
| POM-C, POM-H | PEEK | Flame retardant |
| PET | PPS | UV stabilizer |
| PC | PEI | Anti-oxidant |
| PBT | PSU | Anti-static |
| PE-(U)HMW | PVDF | Color pigment |
Automotive (Intake manifolds, Header tanks, Filters, Fans and Shrouds, Engine covers, etc.)
Electrical (Terminal block, Cable ties, Connectors, Power tools, MCCB, relay, light, etc.)
Blow Moulding (Medical & Cosmetic container, Lubricant & Paint container, etc.)
Film & Pipe Extrusion (BOPA, BOPET, PET Sheet , Pipe , etc. )
Fiber (PA fiber, PSF, FDY, PSF, etc.)
Other Industrial (Construction, House wares, Furniture, Toys, etc.)
Processing of Engineering Plastic
Engineering plastic is sensitive to over heating and hydrolytic degradation.
Our SAT-X serial Extruder with 13Nm/cm3 specific torque and 800rpm speed can get higher output with less residence time, better dispersion, more accurate temperature control.

a) Technical Specifications of Extruder
Model
Diameter
(mm)
Max. Speed
(rpm)
Motor
(kW)
L/D
Output
(kg/hr)
SAT-X52
51.4
800
160
40-44
450-700
SAT-X65
62.4
800
280
40-44
750-1200
SAT-X75
71.4
600
355
40-44
850-1500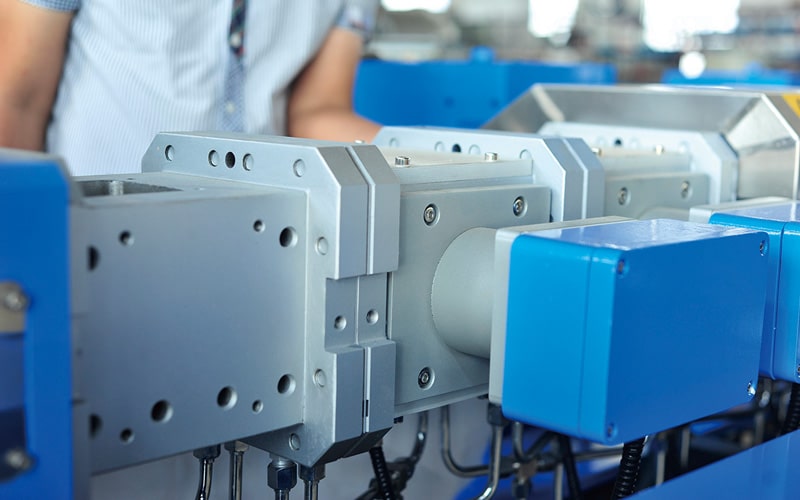 Instead of traditional casting heater (outside the barrel), we use cartridges heater (made in Germany) inside the barrel, and it will save energy. The polymer will melt mostly by heating, not kneading elements, so the shelf lifes of screw and barrel are longer, and the quality of the compounding is better.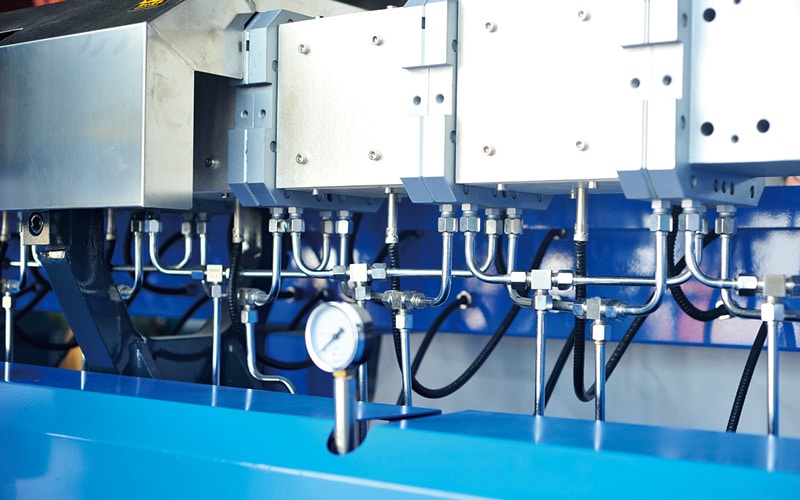 With two input and output on each barrel, more uniform and faster cooling.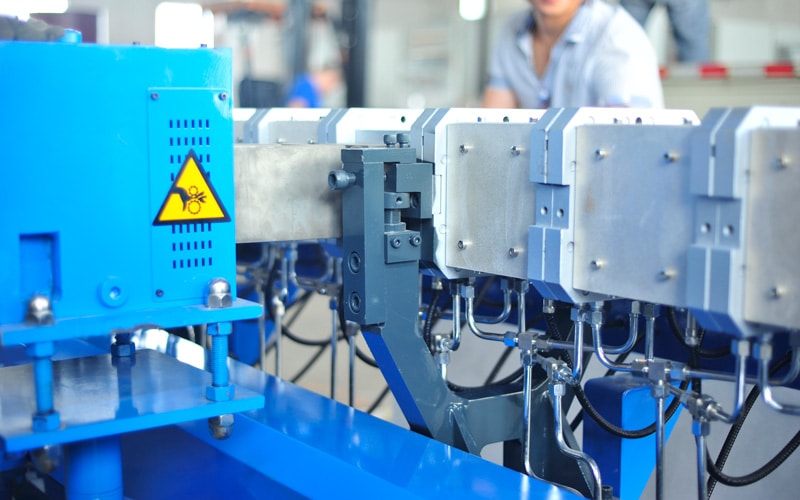 The supporting point of traditional barrel is underneath. When heated, its thermal expansion is upward with the value 0.2~0.5mm (difference up to the size of extruder), and uneven gaps in the upper and lower between screw and barrel.
The supporting point of barrel of SAT extruder is in the middle. When heated, thermal expansion trends upward and downward uniformly, ensuring the center height is on the horizon and forming consistent even gaps in the upper and lower between screw and barrel.
e) Under Water Strand Pelletizing System

The the strands go into the pelletizer automatically by the water flow, even the strands break during changing the filter. So there will be almost no waste during the manufacturing process.
If the strand number more than 25 pieces (the output about 800kg/h), it will be more difficult for operator to handle the hot strand to pelletizer manually.
Several Different Processing Methods
1) Short Fiber Reinforce Compounding
Add the roving shape or chopped glass fiber into twin screw extruder directly and compounding with polymer, and you will get 4mm length pellets with glass fiber length 0.2~0.3mm.
a) Roving glass fiber
Locate 20 pieces of roving fiber on the support frame with weighting transducer- Mettler Toledo.
Put the fiber into the venting port on the fifth barrel. They will be taken into the barrel by twin screw.
With weight controller to indicate the feeding rate (kg/h). You can adjust the feeding capacity by increase/decrease the screw speed or number of fiber.
b) Chopped glass fiber (with length 4~6mm)
Feed into the fifth barrel by two stage side feeder:
The top stage is loss-in-weight feeder with output control.
The bottom stage feeder works with fixed speed for force feeding.
2) Long-fiber Thermoplastic (LFT)
LFT parts are typically manufactured using one of three different processing methods as the following Figure 1.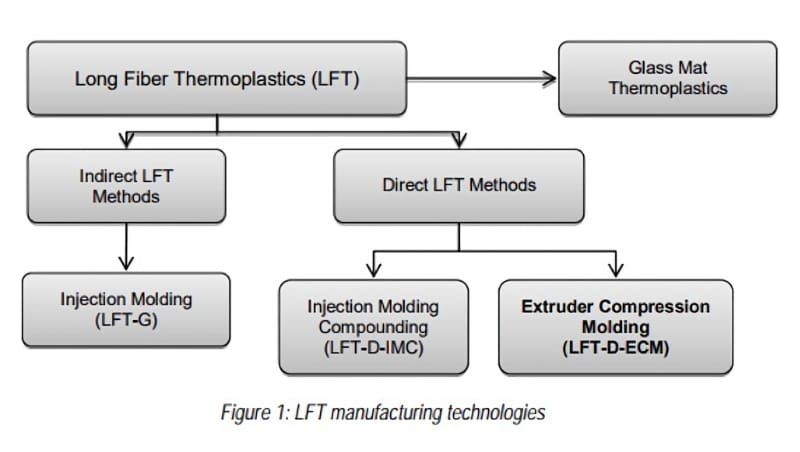 ① Thermoplastic Unidirectional Tapes (UD tapes) Extrusion Line
Add the roving shape glass/carbon fiber into the T-die, then coating by the melting polypropylene PE/PP/PET from extruder. You will get the sheet with width 610~1220mm and the thickness 0.25~0.4mm. It is used for wall panels of building, truck/trailer vehicles.
For PP base sheet, single screw extruder is ok
For PA/PET base sheet, it should be twin screw extruder
Material: PP/PE/PET/PA, masterbatch, roving carbon/glass fiber 50~60%
Extruder: SAT40 or SAT52 Twin Screw Extruder
The effective width: 610mm or 1220mm
Thickness and tolerance range: 0.25~0.35mm, +/- 0.02mm
Line speed: 6-12m/min
Flow chart description:
Glass fiber slewing device → traction Unit → gravimetric batch mixer → loss in weight feeder → twin screw extruder → melt filter → dipping die → pressure calibrating system → cooling stack and edge cutting → winder

② LFT-G (Long-fiber Thermoplastic Compounding for Indirect Moulding)
Add the roving shape glass fiber into the impregnation mould, then coating by the melting polypropylene (PP) from Twin screw extruder. You will get the 6-16mm pellets with the same length glass fiber inside. The pellets will be used for any product by injection molding machine.
The modulus of LFT-G is double than that of Short fiber reinforce thermoplastic, while impact tension is four times, keeping its function without any change under the temperature of minus -30°C.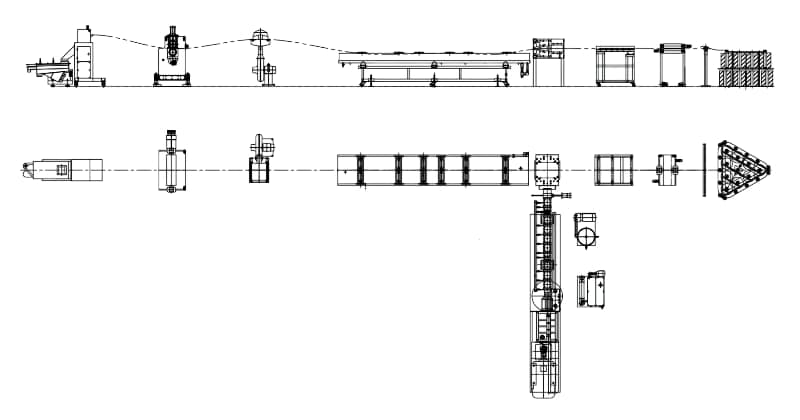 Involves combining the raw materials (fiber and matrix) immediately before entering the molder and avoids the production of an intermediate. This gives the manufacturer the ability to enhance the properties of the resin as required for the application by adding fillers, fire retardants and additives, while also significantly reducing material costs and only establishing a single heat history of the matrix. This direct process can be separated into two process:
LFT-D-IMC (Long-fiber Thermoplastic Injection Molding Compounding Process)
Melts the polymer and mixes it with the fiber, is attached to an injection molding machine.
LFT-D-ECM (Long-fiber Thermoplastic Extruder Compression Molding)
Uses two extruders system for the polymer melting and fiber dosing coupled with hydraulic press for compression molding.
There are two primary advantages to LFT-D-ECM over the other two technologies.
First is that the compounding and fiber mixing steps are separated and therefore both extruders can be individually optimized for their specific functions.
Second, the material is not subjected to the same high levels of stress as in injection molding, which helps to maintain fiber length. This is critical because the mechanical properties of fiber reinforced thermoplastics are strongly dependent on the fiber length. Therefore, LFT-D-ECM process gives a maximum degree of freedom in terms of optimizing material choice, polymer modification, and process parameters, which is important for automotive applications.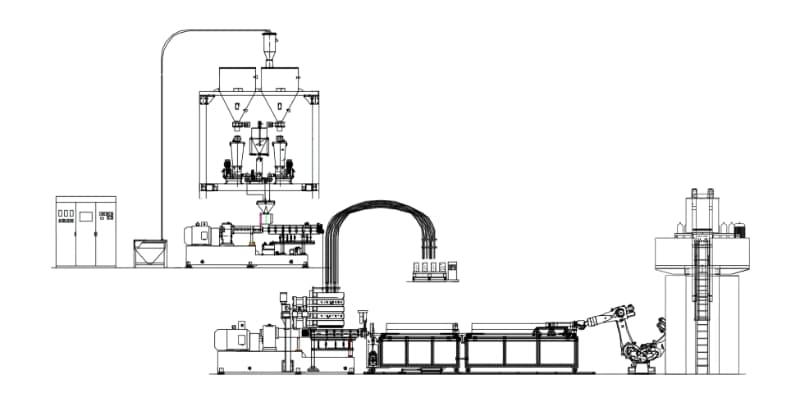 PA + Glass Fiber Compounding Twin Screw Extruder, Taisu in China
PA66+45% Glass Fiber Compounding Line, Taisu in China
LFT-G Compounding for Indirect Moulding Application (SAT40 Twin Screw Extruder)
LFT-G Compounding for Indirect Moulding Application (SAT52 Twin Screw Extruder)
LFT-G Compounding for Indirect Moulding Application (SAT75 Twin Screw Extruder)
LFT-D-ECM (Long-fiber Thermoplastic Extruder Compression Molding)
Continuous Fiber Reinforced Thermoplastic Composite Tape Production line