SAT-X Twin Screw Extruder
Big twin screw extruder, screw diameter upto 250mm.
SAT-X is multifunctional. With a more powerful gearbox, more precise screw elements, SAT is endowed with a more flexible processing range and wider operation window. We also provide individual solutions according to customized requirements. With a variety of modular screw elements, barrels, melt filtration and pelletizing system, we will promise you a worthy investment.
With 13Nm/cm3 specific torque, it can perform greater delicate processing tasks and precise process control to meet complicate and sophisticate processing purpose. Better dispersion, more accurate temperature control and higher throughput have been integrated and optimized further in this extruder.
SAT-X twin screw extruder meets the mainstream European standards, meaning that SAT-X compounder can work under lower temperatures with higher throughput.
USEON have done three big extruder SAT-X175
For BOPP film extrusion
With motor power 1200kW, output 5000kg/h. Comparing to the tradition single screw extruder, it can save about 20% energy and 50% additives
For HOPP Polymerization
With motor power 2000kW, output 8000kg/h
For HDPE compounding for steel pipe coating
With motor power 1850kW, output 5500kg/h
Model
Diameter
(mm)
Max. Speed
(rpm)
Motor
(kW)
Specific Torque
(Nm/cm3)
Output
(kg/hr)
SAT-X52
51.4
800
160
12
450-700
SAT-X65
62.4
800
280
12
700-1200
SAT-X75
71
600
355
13.1
800-1400
SAT-X95
93
600
750
12.6
1700-2600
SAT-X110
110
400
800
12.4
2200-3300
SAT-X130
130
400
1400
12.5
3000-4500
SAT-X175
175
300
2000
10.2
6000-8000
SAT-X250
250
250
4500
12
12000-16000
Precise screw elements made by CNC tools provide SAT with better intermeshing and self-wiping performance, which ensures the entire processing with no dead corners and better control in RTD (residence time distribution).
The ratio of outside diameter and inside diameter determines the free volume. The SAT series extruder features excellent self-wiping functions. By combining with screw torque and free volume, the Do/Di of SAT is optimized at 1.55 that provide sufficient torque while remaining enough free volume.
With exception of specific screw geometries, we supply several materials of screw elements for different processing purposes. We also can configure different screw materials in different processing sections.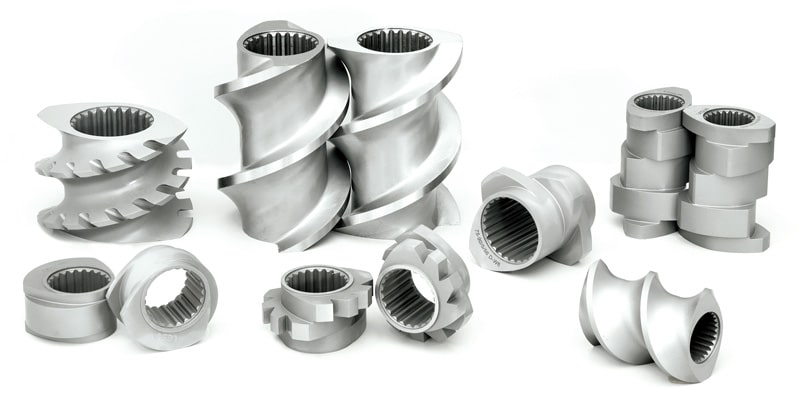 | Material | Description | Hardness |
| --- | --- | --- |
| W6Mo5Cr4V2 | Through hardened tool-steel | 58-60HRC |
| Cr12MoV | Through hardened alloy steel | 58-60HRC |
| SAM10/CK45 | HIP-composite bi-metal steel | 58-62HRC |
| 38CrMoAlA | Hardened and tempered nitrided steel | >HV940 |
| 440C | Hardened Stainless steel for food | 54-56HRC |
| C-276 | Hastelloy | 180HB |
SAT adopts ingenious cooling channel designs which provide a more efficient cooling performance and easier maintenance. Modular design allows barrel sequence to be optimized with different barrel materials as per the characteristic of the processing task.
To ensure the precision, all SAT barrels are processed by CNC machines. We have various barrel structures to cater for different feeding types, venting types and liquid injection.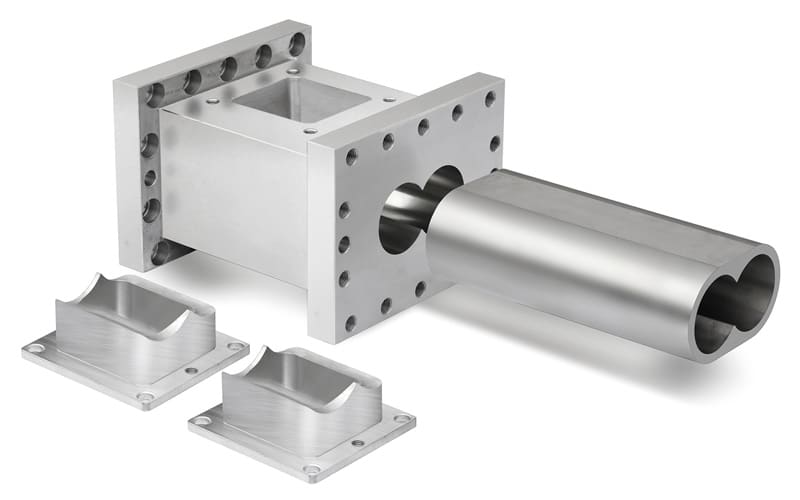 | Material | Description | Hardness |
| --- | --- | --- |
| Cr12MoV | Through hardened alloy steel | 60-62HRC |
| W6Mo5Cr4V2 | Through hardened tool-steel | 60-62HRC |
| Ni60+25%WC | PM-boned HIP nickel base material | 62-64HRC |
| 38CrMoAlA | Hardened and tempered nitrided steel | >HV940 |
| 440C | Hardened Stainless steel for food | 54-56HRC |
| C-276 | Hastelloy | 180HB |