UHMWPE Battery Separator Films
Medium and large extruders manufactured by USEON are increasingly applied in the New Energy sector, which includes Lithium battery separator film extrusion, and compounding or cathode and anode materials. In recent years, USEON get more and more extruder orders in this sector.
Since the Lithium ion battery was introduced by Sony company in early 1990s, it has witnessed a rapid development attributed by its excellent electric features including high voltage, high energy density and long cycle life, etc. Along with the growth of Electric vehicle and New Energy sector, the demand for power Lithium battery is booming.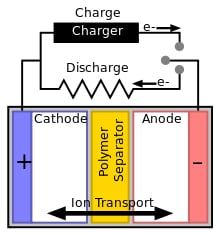 Dry and wet processes are the most common separation production methods for polymeric membranes. The extrusion and stretching portions of these processes induce porosity and can serve as a means of mechanical strengthening. USEON has the practical experience in both processes. Generally one set of parallel twin screw extruder with screw diameter of 135mm and long L/D can get the separator output of 50 million to 100 million square meters per year. 
USEON along with European partners provides the turn key projects for Lithium ion battery separator, and are endeavored to achieve higher output, better quality production line with less energy consumption.
Rich engineering and manufacturing experience in Lithium ion material industry
Rich manufacturing experience in large twin screw extruder (screw diameter of 110mm, 135mm and 175mm are recommended for separator and paste applications)
A lot of imported components from Europe equipped in USEON extruder to ensure higher reliability
High output and low energy consumption
Able to provide the complete production line and turn key projects along with European partners
Model
Diameter
(mm)
Screw length
(L/D)
Max. Speed
(rpm)
Motor
(kW)
Specific Torque
(Nm/cm3)
Output
(kg/hr)
SAT95
93
52~64
200
220
10
300-400
SAT110
110
52~64
200
355
10.1
500-600
SAT130
130
52~64
150
450
10
700-800
SAT175
175
52~64
150
600
9.9
1000-1200
Cathode & Anode Materials Compounding
In terms of cathode and anode paste, another component of Lithium ion battery, USEON large extruder replaces the intermittent production equipment like duel planet dispersing machine for the preparation of the paste. USEON extruder combined with cathode and anode paste automatic production line make the cathode and anode paste's automatic and continuous production possible. The production line has high automation and excellent sealing features, which increases the productivity of Lithium ion battery paste and greatly enhances the uniformity and stability. As a result, it lays a solid foundation for more applications of Lithium ion battery.
Generally one production line will have two sets of USEON parallel co-rotating twin screw extruder, i.e, one for cathode and one for anode to meet the annual output of 10GWh. Cathode and anode electrode paste will be processed in twin screw extruder for shearing and emulsifying to adjust the viscosity, followed by vacuum degassing, temperature decreasing and shearing. It can effectively control the dispersion and uniformity of particle shape active materials, increase the dispersion degree of Lithium ion in the paste, ensure the uniformity between powder particles and adhesive and prevent them from layering. Paste made in this way will greatly improve the quality and performance of the Lithium ion battery.