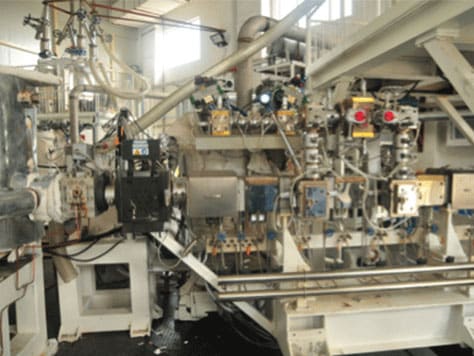 Our customer who is one of the biggest packaging material suppliers in China accepted our 1000kg/hr BOPET extrusion system.
This system consisted of two sets of SAT40 twin screw extruders and one set of SAT110 twin screw extruder that constituted a multi-layers BOPET extrusion system. This customer also bought one set of SAT95 twin screw extruder for film margin recycle line from us.
Comparing with traditional single screw extruder process, twin screw extruder process for BOPET can save electricity energy up to 35%. This improvement substantially cut the manufacturing cost by eliminating electricity and time-consuming pre-crystallization and pre-drying system. It also save labor cost and turnover time of pre-handling raw materials.
The secret of this cutting edge is that twin screw extruder can outfit with high vacuum system which exposure the PET melt in the vacuum condition as long as possible in order to exhaust out the moisture and low molecular particles that will entail PET hydrolysis so that the IV of PET will drop down. Single screw extruder is impossible to equip with strong vacuum system without loss of output.
To learn more about PET extrusion technology, welcome to contact us.