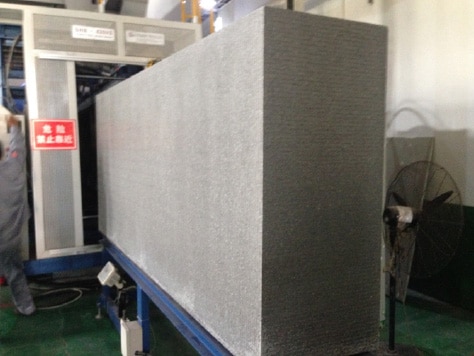 This week we launched our new product, "Blacket" graphite EPS beads and its processing machine. This is a new milestone for Useon and thermal insulation industry.
After 8 months continuous experiment, finally we produced qualified graphite EPS beads with our own extrusion system. And the first batch of 20 tons of B1 fire retardance EPS beads have passed all relevant tests for 2 months.
Graphite EPS is a good supplement for traditional with EPS and XPS (rigid extruded polystyrene). Comparing with traditional white EPS, graphite EPS has better thermal insulation performance by 30%. With their unique physical features, they will contribute to thermal insulation industry respectively.
At the same time, we introduced our turn-key project of graphite EPS pelletizing line and the knowhow. At present, we have two series, 1000kg/hr and 2000kg/hr. This product will become a new favorite of USEON Foam Extrusion business.
To learn more about graphite EPS beads or graphite EPS pelletizing line, please contact us now.