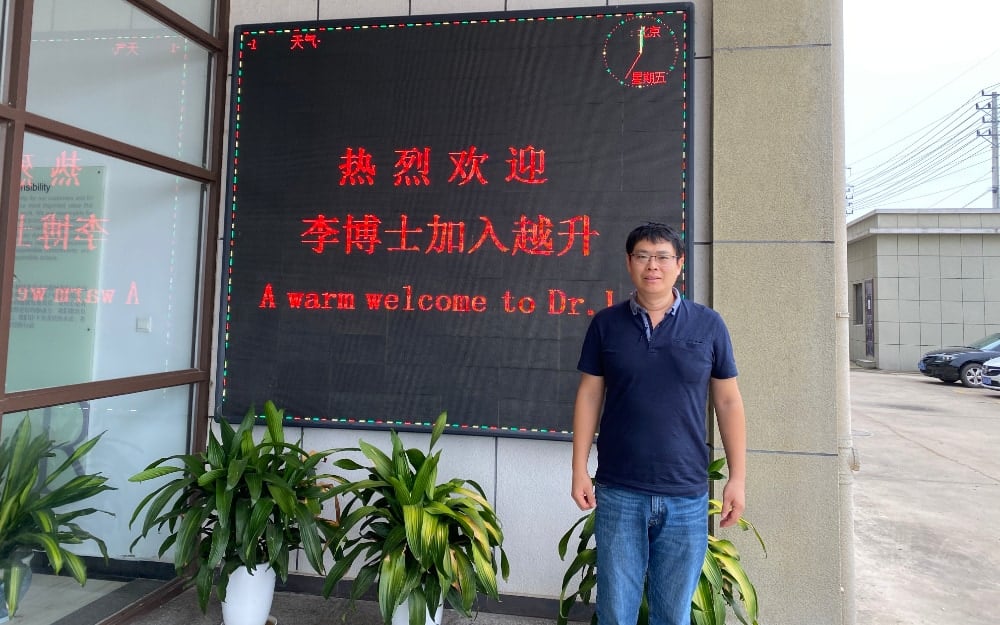 After four weeks of quarantine, USEON Innovation Team welcomes Dr. Li on his first day of joining the company on October 8th, 2021. USEON has also hosted a special welcome ceremony.
The birth of USEON 15 years ago rooted the mission of a platform to establish a connection between extrusion equipment and polymers. With his rich background in polymer science, Dr. Li will not only underpin this mission but reinforce it. His presence will expedite our launch of the next generation of extruders and enhance our foam extrusion process.
With the government's target of promoting carbon-neutral and prohibition of non-eco-friendly additives (blowing agents, flame retardants, and flexibilizer, etc.), we will work effortlessly towards the innovation of materials and technologies, leading the development of new initiatives and fulfilling the dynamic needs and demands of the market. USEON's innovation is heavily invested in the sustainable manufacturing of plastics. Our aim and progression in the innovation of sustainability have been evident in helping buildings save energy, promoting more clean energy, producing biodegradable plastics and plastics with greater circular ability, supported by improving and factual data. As we reinforce more eco-friendly goals and protocols, not only will we be competent in meeting demands in social development, but also cultivate a brighter future.
Dr. Li (Li Shuzhao) is an expert, who has substantial expertise in polymer reaction extrusion, foam extrusion and compounding. He has taken on projects which were funded by the Shanghai Science and Technology Committee and the Ministry ofEducation of China. He was also awarded first in the Shanghai Science and Technology Award. From 2015 to 2018, Dr. Li was funded by the Natural Sciences and Engineering Research Council of Canada (NSERC) to do the post-doctoral research at GRDC and AAFC, and he gained a permanent engineer title subsequently.