On Dec. 11, 2021, SAT175 twin screw extruder made in USEON's Zhenjiang factory is loaded for delivery to the client after the inspection at workshop. This extruder's screw diameter is 175mm with motor power 1120Kw and overall weight up to 45 Tons. The extruder is used to manufacture BOPET film.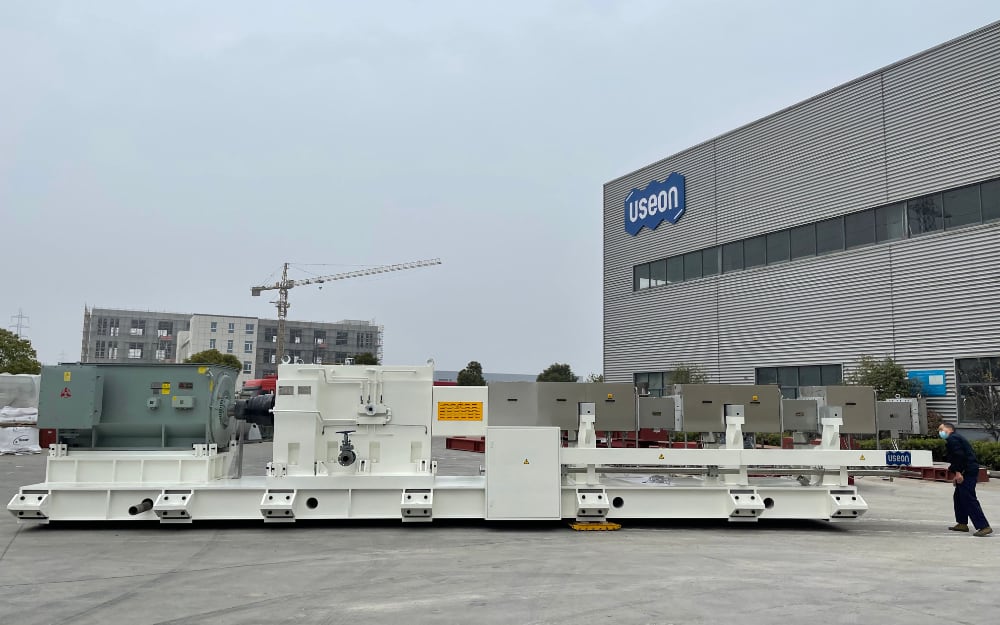 SAT175 twin screw extruder is the mature model by Useon and was exported to Southeast Asia and Europe, etc. USEON has accumulated rich experience in the BOPET processing from various projects; in the meantime, USEON also keeps applying the latest technology in extruder for BOPET film production. USEON's profound expertise in this field and high quality equipment are trusted by the clients.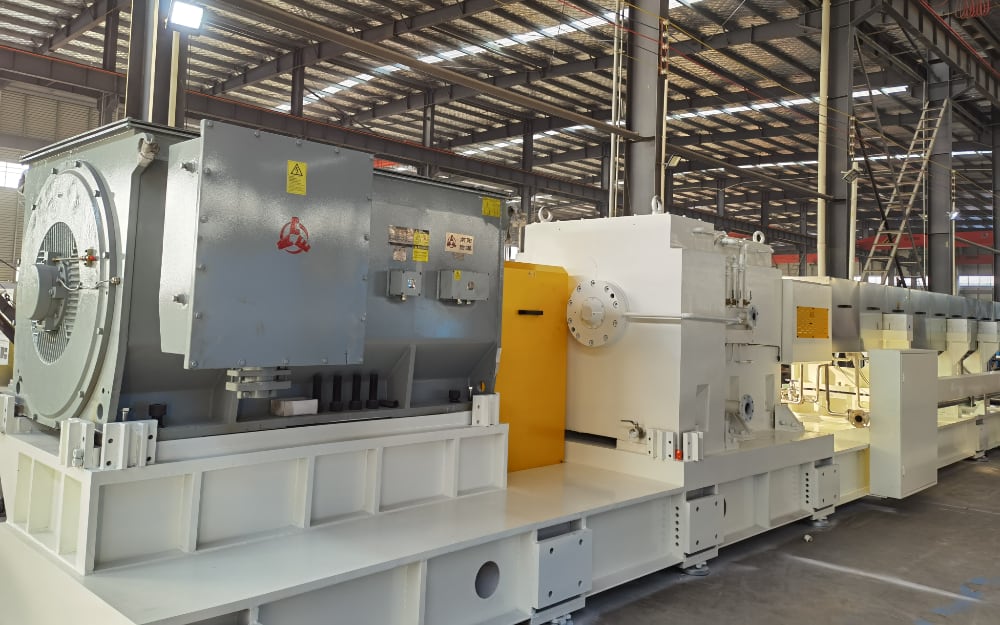 USEON's SAT175 is characterized as following:
Large output: up to 4000kg/h, largest of its kind made by Chinese makers;
High torque gearbox: able to process PET under lower temperature and lower speed, and to ensure high output without excessively shearing and thermal degradation;
High vacuum technology: crystallization-drying free and energy saving, better color (L/A/B value), less IV drop;
Side vacuum extraction technology: to remove the moisture and volatiles, and able to avoid condensed liquid going back to the molten plastics;
Advanced barrel design: high precision temperature control, enabling the equipment to work in the best state;
Advanced modular screw design: low surface roughness and excellent screw combination, making sure optimum plasticization strength and molecular mass distribution.
BOPET (biaxially-oriented polyethylene terephthalate) is a polyester film made from stretched polyethylene terephthalate (PET) and is used for its high tensile strength, chemical and dimensional stability, transparency, reflectivity, gas and aroma barrier properties, and electrical insulation. It is widely applied as flexible packaging and printing media, etc.
Due to the late start and the fluctuation of downstream demand, the scale of China's BOPET film industry also showed a trend of fluctuating development with most of production lines imported. In recent years, BOPET film's downstream applications continue to expand, especially in the electronics and solar industry. According to the market survey in 2020, there is the tight balance between demand and supply. Increasing market demand for BOPET film will bring more opportunities.