To celebrate 12 years' foundation of our company, LAB30 Economic Model is on promotion with limited quantity of 88 sets. It is able to handle various common recipes, with price range from USD14000 to 18000 (based on different configurations).
Of cause we still supply high torque model LAB30 extruder for some special compounding.
Both of them can be used to stimulate the continuous extrusion process for batch samples, new material research, new process development and small quantity production.
Promotion End Date: 2019-12-31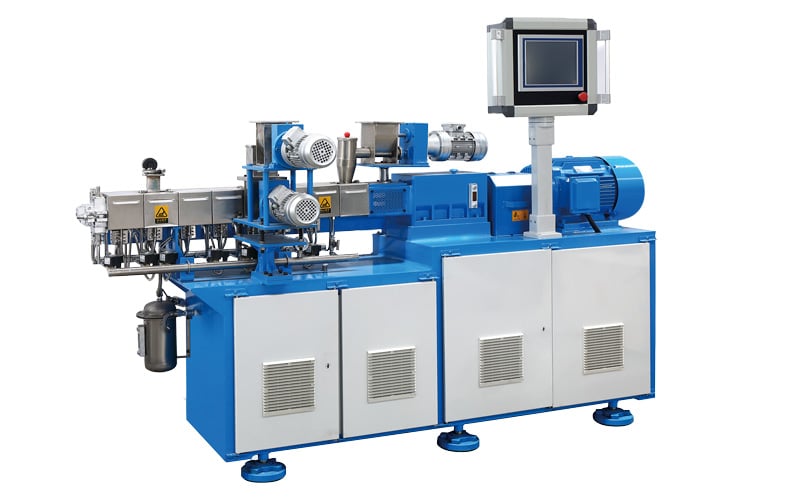 It is designed for the recipes with low bulk density and less power consumption, such as color/filler additive and some additives masterbatch etc.
With the best price in the market.
With traditional touching screen.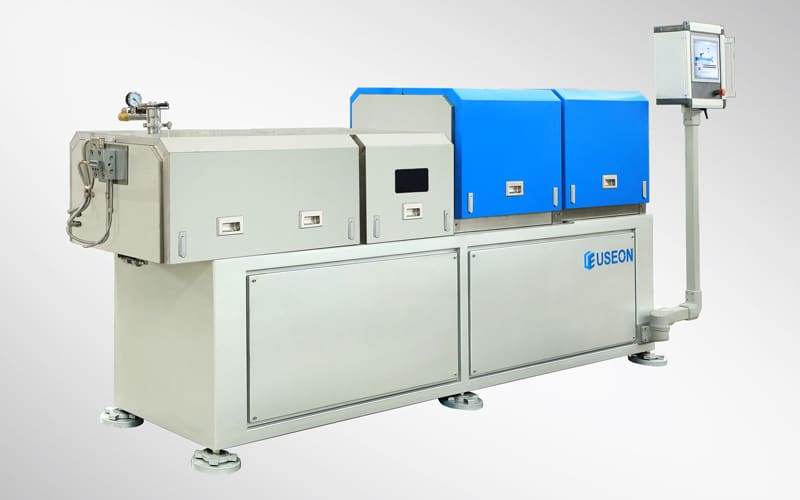 It is designed for the recipes which need high torque and higher temperature, such as PA66 compounding with 40% glass fiber, PC/ABS alloy etc.
The material of screw and barrel are good for wear-resistance.
Clutch with torque limit for protecting the gearbox if overloading.
With Intelligent control system.
Model
Economic model
High Torque Model
Screw Diameter / mm
30
30
Max. Screw Speed / rpm
600
800
Length of Screw / L/D
40 – 44
40 – 48
Screw Material
38CrMoAlA
W6Mo5Cr4V2
Barrel material
38CrMoAlA
45# + complete linear Cr26MoV
Heater of barrel
Infrared
Casting Copper
Main Motor / kW
7.5 – 11
18.5 – 30
Gearbox Specific Torque Nm/cm3
6.8
13
Clutch
Standard with 6 nylon pins
Torque limiter from German
Control System
SCIYON inverter + HMI
SCIYON inverter + Industrial PC
Pelletizing System
Water cooling strand pelletizing without classifier
Water cooling strand pelletizing with classifier
Output kg/hr
20 – 35
25 – 70
Application
Color masterbatch
Filler masterbatch
Additives masterbatch
Cable compounding
Engineering plastic reinforce:
PA66 + 40% GF
PC/ABS alloy
TPE/TPR
Price — FOB Nanjing in USD
14,000 -18,000
27,000 – 33,000