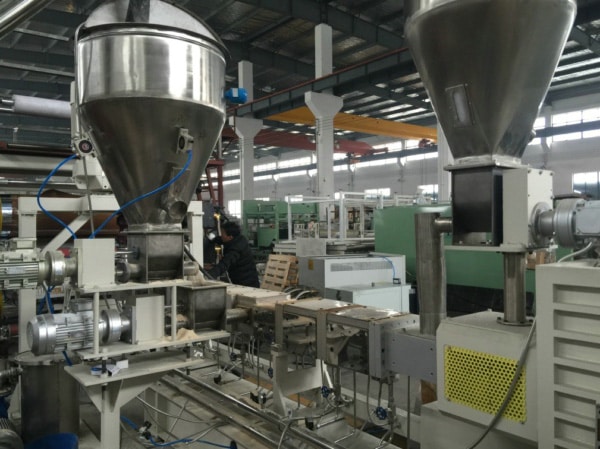 The first working day of Chinese Monkey Year, Useon has been engaged in loading one complete WPC sheet direct extrusion laminating production line which has been accepted by European customer just one week before Chinese New Year.
One-step WPC sheet production line is another real application of direct extrusion technology based on twin screw extruder. This is just one of many direct extrusion applications developed by Useon team. By this new technology, we have streamlined the process flow of many production lines, and gained many substantial benefits.
This WPC direct extrusion line is comprised of main feeder, side feeder, co-rotating twin screw extruder, gear pump, T-die, calenders and downstream. This new technology carries many substantial benefits in product quality and production cost.
PP resin and color masterbatch are fed into TDS95 co-rotating twin screw extruder through the main feeder. The wood powder and some additives are fed through the sider feeder where PP resin has been plasticized in molten, therefore the temperature at side feeder zone can be set in lower temperature to protect the wood fiber in origin and keep the natural wooden color as much as possible. The other reason we can run the machine at lower temperature is that we have employed high torque twin screw extruder.
Besides improving the quality of end WPC product, energy saving is another cutting edge of direct extrusion technology, because the pre-dry and pelletizing steps have been eliminated from the whole process, which are typically energy consuming process. Also, it increases the productivity by reducing waste that would be generated during pelletizing course. Let's summarize some substantial benefits of one-step WPC direct extrusion technology in following
Keep the wood powder in natural fiber
Maintain the natural wood color
Energy saving up to 40%
Save production area
Streamlined the whole process
To learn more about direct extrusion technology, welcome to contact us!