3LPE External Coating Line
We provide turn-key project include internal coating and external coating (FBE coating, 3LPE coating).
Our team have designed and manufactured the first 3LPE steel pipe coating line in China. To learn more about steel pipe coating line, please contact us now.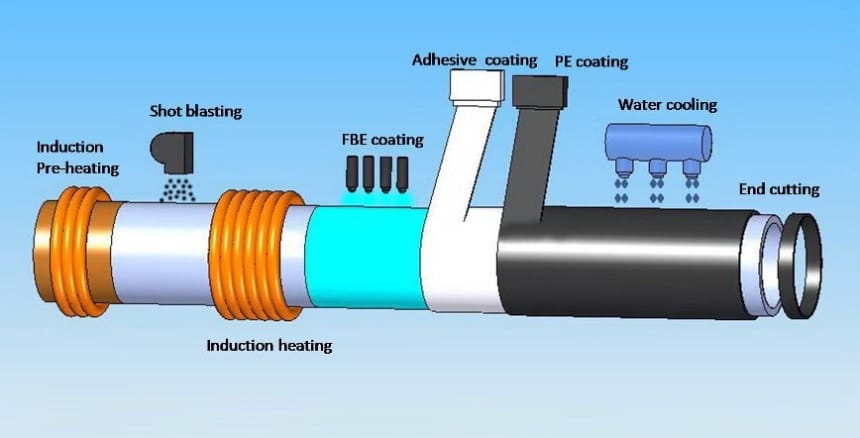 The pipes coated by this equipment have been broadly applied in oil, gas and water transportation. Such pipes have been applied for sub-oceanic pipeline. Supported by reasonable process control, such coated pipes boast high capability to bear stripping, acid, alkali and ultraviolet radiation. The pipes treated by 3LPE coating process, boasting excellent performance, have been honored as "Permanent Anticorrosive System" in this industry.
This production line, equipped with many special equipment/devices and supported by several kinds of environment protection equipment/devices, can ensure the advantages including high efficiency, energy saving and environment friendly for coating production.
The 3LPE coating line for steel pipeline is a whole set of equipment which is the most advanced coating of the buried steel pipeline. This equipment represents the most advanced coating process being popular in the whole world.
By combining the FBE coating technology popular in North America and the PE/PP technology popular in Europe, this production line can coat pipes with single-layer FBE coat, double-layer FBE coat, double-layer PE coat, 3PE coat, 3PP coat and also is capable for coating concrete balancer pipe.
The three coating layers of 3LPE coated pipe are as follows:
Layer 1: Anti-corrosion layer. This layer consists mainly of fusion bonded epoxy resin;
Layer 2: Copolymer adhesive. The function of this layer is mainly to bond the fusion bonded epoxy resin of the first layer and the polyethylene of the third layer;
Layer 3: This layer is mainly composed of polyethylene. This layer is for physical protection.
1) Inbound Rack and Conveyor
The pipe will be loaded by this unit.  It consisted of inbound rack and convey system. All actions are driven by hydraulic system. The Main rack made of thick wall rectangle structure steel tube is to ensure convey stable and to meet the max heavy-load requirement of heavy pipe. Catch and release pipe is controlled by PLC automatically.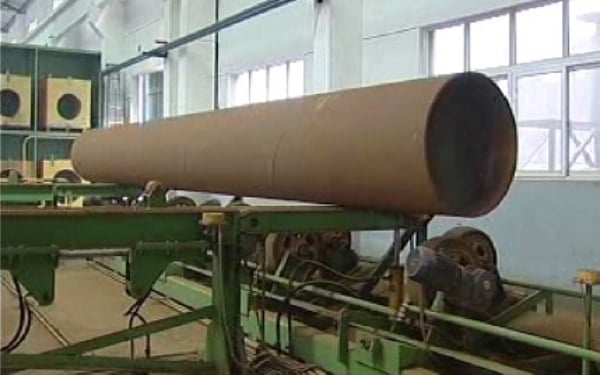 This unit is to heat up the pipe for better shot blast performance. The induction unit is middle frequency induction heater. The surface of pipe would be 50-60℃.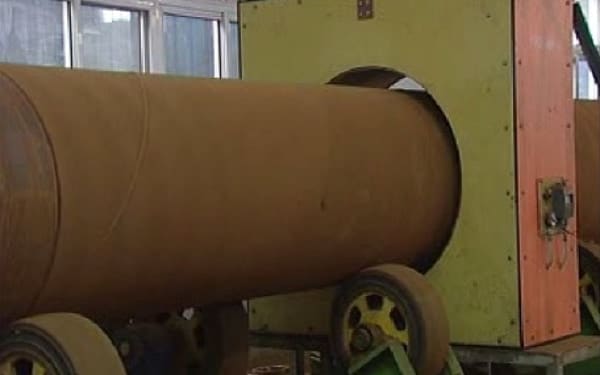 Shot blast unit is to remove the dust, oil and moisture one the surface of the pipe. By this way, the coating performance would be better and longer lifetime.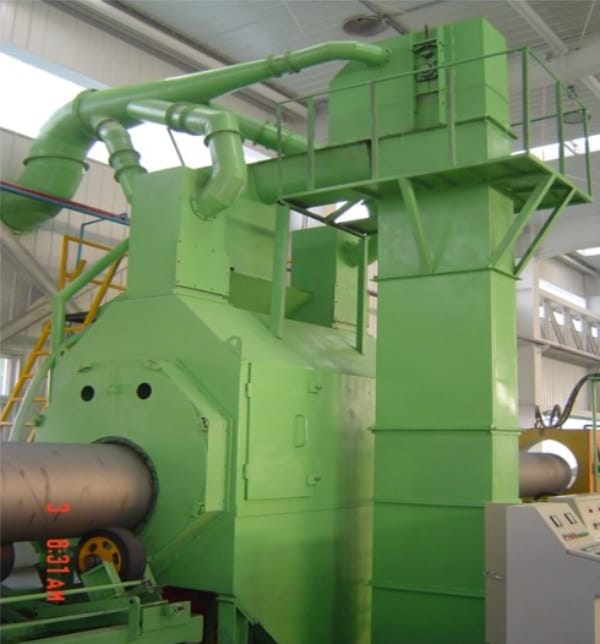 Special design of corona hi-voltage electrostatic powder spraying gun can meet the requirements of high temperature. Hi-voltage electrostatic generator can provide 100kV(DC) power. This ensures the high speed and high efficiency. Spraying gun made in Japan. Modular design is good for maintenance. Spraying room made of stainless steel, light inside. Powder recycling uses cyclone and cartridge. Material of cartridge is polyester fiber and micro holes aluminum foil composite material. This material can eliminate electrostatic and can be washed by water.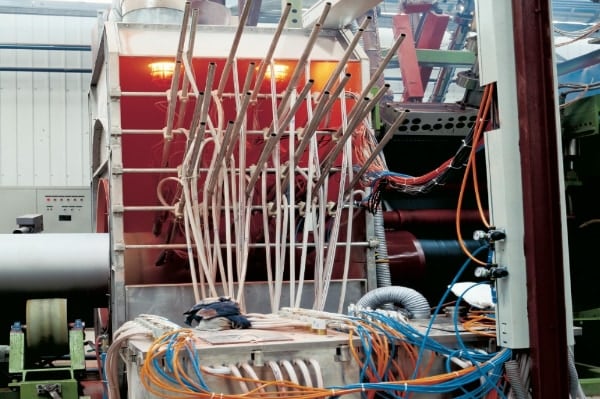 5) Adhesive and PE coating
The adhesive will flow out from the hanger die to coat on the epoxy layer. It is could enhance the strength between PE layer and epoxy layer.
PE and adhesive layers would be laminated online.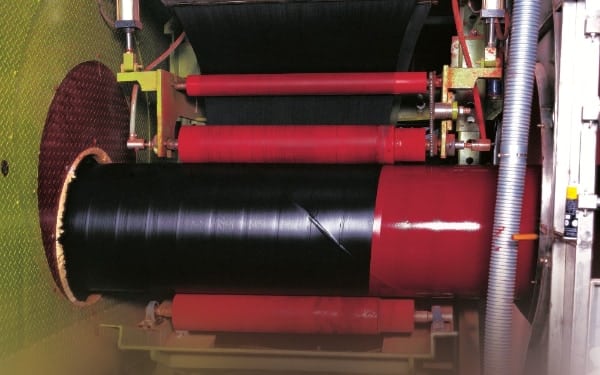 After coating of adhesive and PE layers, the pipe will entry to the cooling room to cool down the coated pipe. The water is circling.
The convey system in this unit can tilt automatically to empty the water inside during the cooling step. Also the catch pipe and release pipe action are automatically.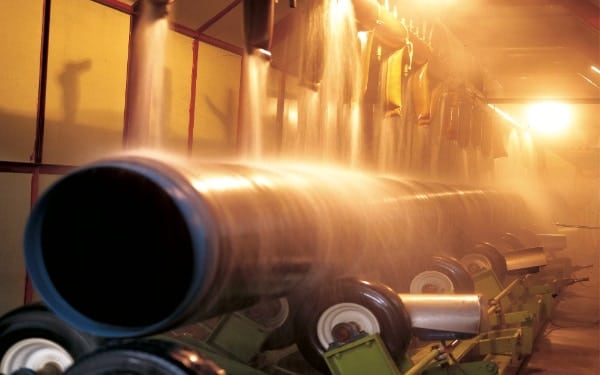 Now the pipe is ready for checking. This platform is for quality check and transfer the qualified pipe and unqualified pipe to different zones.